Inspired by work by NASA, Pigment Control is Light Therapy's 1st cosmetic instrument that locally targets pigment spots.
INNOVATION
At the forefront of innovation, it stems from the expertise of Talika Research, which has been studying the virtues of wavelengths for nearly 15 years and has been a pioneer in the cosmetic skin care market since 2008.
Patented, compact and easy to use, it combines the emission of the 525 nm wavelength on an action surface adjusted to precisely target dark spots as well as an ionotherapy function to increase the effectiveness of lightening creams.
1. ANTI-SPOTS ACTION: LIGHT THERAPY
• Green light (525 nm): targets and regulates the activity of melanocytes. The anarchic synthesis of melanin is controlled, the intensity and the surface of the spots are reduced.
2. BOOSTER THE EFFICIENCY OF DAILY CARE
• Ionotherapy: imperceptible ionic micro-current which increases skin permeability to improve penetration and the effectiveness of all anti-stain treatments.
• Micro-vibrations: stimulate cellular exchanges.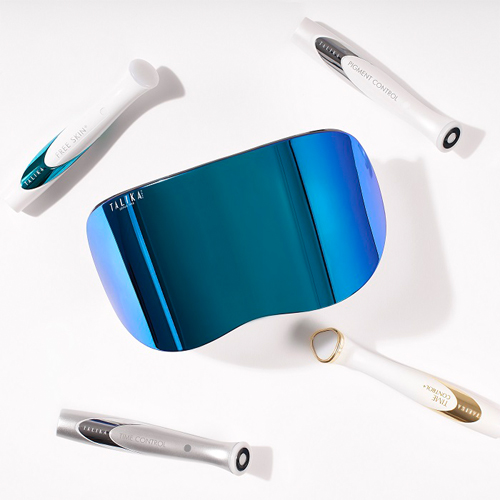 THE 1ST ANTI-STAIN COSMETIC INSTRUMENT FROM LIGHT THERAPY.
ITS TECHNOLOGIES
• Green light (525 nm): reduces the intensity of dark spots • Ionotherapy: improves the penetration and effectiveness of anti-spot treatments • Micro-vibrations: stimulates cellular exchanges.
Technologies tested under dermatological control.
1 PATENT
RESULTS
The ultra-targeted action of Pigment Control quickly takes control of dark spots on the face, hands and cleavage. From 30 days, the pigmentation of spots is reduced by up to 44% *.
Day after day, unsightly shadows disappear and your face lights up!
PRODUCT USE RECOMMENDATION
1 minute morning & evening in cure of 28 days minimum or throughout the year.  
Ergonomic, easy to use, just turn it on then it activates on contact with the skin and turns off automatically after 1 minute. 
Can be used with or without cosmetic anti-stain treatment, boosts their effectiveness. Not recommended for people with contact allergy to metals (nickel).
* Clinical test, 30 subjects, mean value for 10 subjects / 30 (overall mean value: -27%) 1 daily session of 2 min, dermatological scoring